RIVER OAKS LODGE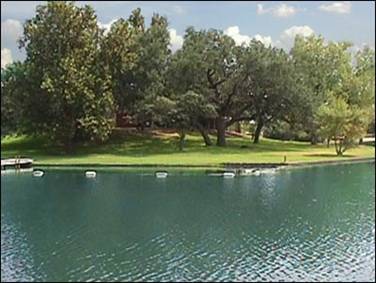 View of our spacious tree covered grounds
and roped swimming area
Welcome to the TEXAS HILL COUNTRY and River Oaks Lodge in Kingsland, Texas. We are located on Ranch Road 1431 on Lake LBJ. Lake LBJ is a constant level lake so you never have to worry about water level. Our cabins are set in a "no wake" cove on the Colorado River "arm" of Lake LBJ. You will enjoy our quiet, relaxed atmosphere on the water without the lake traffic.
RIVER OAKS LODGE features the following for our guests:

Boating –

boat launch ramp and covered boat docks and jet ski ramps

Swimming – Roped off swimming area

Fishing – Indoor/outdoor floating, fishing house

Relaxing – almost 1 ½

acres with picnic tables, BBQ grills, and covered gazebo

Paddle boat, row boat with trolling motor, and 21' pontoon boat rentals available

All cabins are located on the water

Pets are welcome

Free Wireless Internet

WINTER TEXANS are most welcome with special monthly rates for our out of town visitors seeking longer lodging in the winter. (see Winter Texan info below)

Golf packages are available. Ask our manager about play in the Kingsland area. Two 18 hole courses are nearby (5 minutes).
See Our Cabins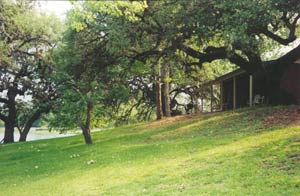 Lake LBJ, part of the Highland Lakes chain is a CONSTANT LEVEL LAKE and offers spectacular views, tons of water activities, great fishing, and lot's of fun for the whole family.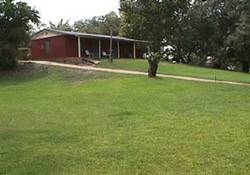 From the porches of cabins 1 & 2, you can view the Historic Kingsland railroad bridge. Want some excitement? Some guests like to jumb from this famous bridge.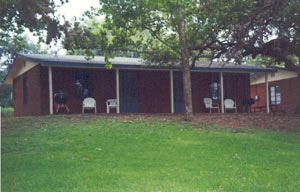 All of our cabins are on the waterfront and are completely furnished including: linens, fully equipped kitchen (dishes, utensils, pots and pans, coffee makers, toasters, refrigerators, stoves, and microwaves), showers, heating and air conditioning, cable color TV, covered patios/porches, and BBQ grills.
Other amenities included in your stay are:
Use of the covered boat stalls and boat ramp

Indoor/outdoor lighted, baited fishing house

In lake swimming area with roped off sandy bottom and dock

Covered picnic area

Picnic tables

Close to golf courses and river cruises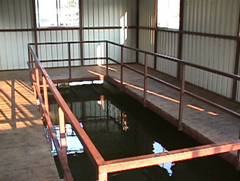 Fishing House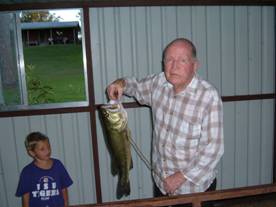 Fishing House- Indoor/Outdoor fishing, baited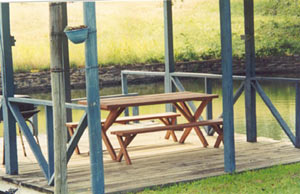 Have a picnic on the water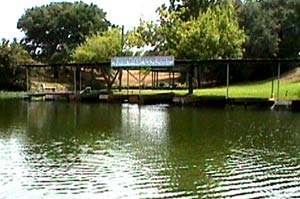 Covered boat slip & 3 new Jet Ski ramps are available
Rates
Cabin #

Mininum
Occupants

Maximum
Occupants

Mininum
Rate Summer

Minimum
Rate
Spring/Fall

Minimum
Rate Winter

Holiday
Rate

Cost Each
Additional
Guest

Cost Each
Day Guest

1 thru 7

1 or 2

4

to 5

$99.00

$82.50

$75.00

$109.50

$5.00

$5.00

8

1 to 4

8

$115.00

$97.50

$92.50

$119.50

$5.00

$5.00
SUMMER SEASON:
Thursday before Memorial Day
through Labor Day Weekend
SUMMER SPECIAL: STAY 6 NIGHTS AND GET THE 7TH FREE!!!
GREAT ACCOMMODATIONS FOR FAMILY REUNIONS

---
SPRING AND FALL SEASONS:
March, April and May (Wednesday before Memorial Day Weekend),
September (Wednesday following Labor Day weekend), October and November
---
WINTER SEASON:
Decemberr. January and February
Weekly and Monthly rates available during some winter months.
CALL FOR RATES
---

Reservation & Deposit Information:
Drive-ins are welcome but we recommend reservations.
Weekend reservations - minimum two nights stay
EXCEPT SUMMER SEASON, three (3) night minimum
Holiday reservations - minimum THREE nights stay
EXCEPT Fourth of July, four (4) night minimum
Family reunions - minimum THREE (3) nights stay
DEPOSIT FOR FIRST NIGHT STAY REQUIRED
(check or money order only)
WE WILL HOLD RESERVATIONS SEVEN DAYS ONLY
TO ALLOW FOR DEPOSIT TO ARRIVE VIA U.S. POSTAL SERVICE
---

POLICIES:

* Check in: after 2:00 pm
* Check out: before 11:00 am

* During our

off

season, we allow late check out on Sunday's when available.

* Pets are welcome, but must remain with owner at all times
and leashed when outside of cabin.
There is a one time $20.00 fee for each pet per stay

* Children under three stay free.
---
River Oaks Lodge welcomes Winter Texas and offers special monthly rates for our out of town visitors who want longer stays in the winter.

Monthly rate available Dec, Jan & Feb and limited availability in Nov and March.

Cabin rates begin at $650.00 per month.

Golfing is available at the newly redesigned "Packsaddle Country Club" which is only 5 minutes away and offers monthly memberships for singles and couples. Also five minutes away is the championship layout of the "Legends of Golf" with very reasonable green fees.
Each year Kingsland and Lake LBJ draw people like yourself from all over the country because of the mild climate, summer & winter activities, beautiful scenery, friendly people and financially stable environment. With over 300 days of sunshine, those of you from the northern states find the area perfect during the months of December thru March.
Cabins can be set up as needed for an extended stay. All of the cabins are on the waterfront and include kitchenettes, cable color TV, linens and towels (optional), completely furnished, heating and air conditioning, and BBQ grills.

Call Scott or Ashleigh at 325-388-4818 for availability and information, or just e-mail us at rolodge@tstar.net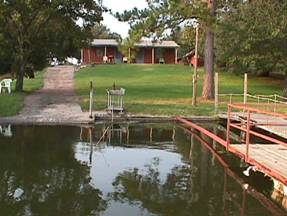 View of Cabins 1 & 2 from fishing house
FOR RESERVATIONS CALL
325-388-4818


rolodge@tstar.net
River Oaks Lodge
PO Box 358
Kingsland, Texas 78639
325-388-4818
"We look forward to accommodating you!"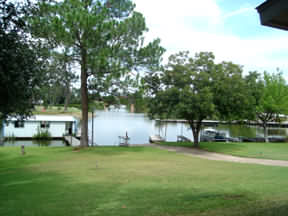 ---
Attractions & Links
The Kingsland Bluebonnet festival in April of each year
Kingsland 4th of July fireworks-AquaBoom festival
Bird watching throughout the Highland Lakes